Landlords Fees for Lettings
Square Quarters Landlord Fees
We offer a straightforward and transparent commission structure which allows our Landlords to spread the payment of our commission over the duration of the tenancy on all our services in which we collect the rent. Unlike most agents our commission is deducted from the rent so that our Landlords start receiving an income for their property as soon as the tenant moves in. Rest assured, as a member of The Property Ombudsman (TPO) for lettings we subscribe to TPO's Codes of Practice. This Government approved independent redress scheme gives consumers additional protection beyond that required by law. Our clients and customers have peace of mind that there is free and fair redress available in the unlikely event of an unresolved dispute involving our agency. As members of UKALA, Safe Agent and Client Money Protect this means that any monies we hold on your behalf is insured. This gives you peace of mind and financial protection that your money will always be safe in our hands.
Letting Service fees
Platinum Lettings and Property Management With Rent Guarantee: 21% of monthly rent (17.5% plus VAT)
Gold Lettings and Property Management: 18% of monthly rent (15% plus VAT)
Silver Lettings and Rent Collection: 12% of rent (10% plus VAT)
Bronze Lettings Only: 11% of annual rent (9.16% plus VAT)
Renewal Fee: Initial Fee payable will be reduced by 1% as per the terms of business (i.e. where the initial fee was 15% + VAT for fully managed service this will be reduced to 14% + VAT on renewal) - Contract negotiation, including rent review, amending and updating terms and arranging a further tenancy and agreement. Payable on all extensions, renewals, hold overs, new agreements and periodic tenancies during which:
a) a tenant introduced by us occupies the Property; or
b) a person or company introduced by a tenant introduced by us occupies the Property; or
c) a person associated with a tenant introduced by us occupies the Property
d) a tenant introduced by us occupies any other property let by you
Miscellaneous Fees:
Tenancy Preparation fee (Including tenant referencing and admin) £180 (£150 plus VAT)
Including:
DPS Deposit Registration (managed)
AML check (Anti Money Laundering)
Online document signing
Updated Solicitor Approved Assured Shorthold Tenancy Contract
Right to Rent Check including follow up for time-limited Visas
Tenancy Dispute; preparation and submission of evidence to the DPS etc. (only where agent has protected deposit)
Service of Legal Notices Section 8 or 21 Notices
Optional costs
Check in and inventory Variable £144-£192 (incl VAT)
Checkout inventory £120 (incl VAT)
Arranging EPC (10 year duration) £90 (incl VAT)
Gas Safety Certificate (GSR) Annual £114 (incl VAT) or combined with boiler service £162 (incl VAT)
Electrical installation Condition Report (EICR) £150 (incl VAT)
PAT testing £120 (Incl VAT)
Vacant Property Inspection Management Fee £30 (incl VAT) VAT per visit
Appearance before any court or tribunal £420 (incl VAT) per day
Abortive transaction £500 (incl VAT)
Landlord not proceeding with letting after satisfactory references and contract prepared
HMO Licensing or Additional Licensing or Specific Licensing £420 (incl VAT)
Applying for any HMO License on your behalf plus the cost of the license
Additional Work £60 per hour (incl VAT)
Work not covered specifically in this agreement to be charged at an hourly rate. Minimum fee is £60 (incl VAT).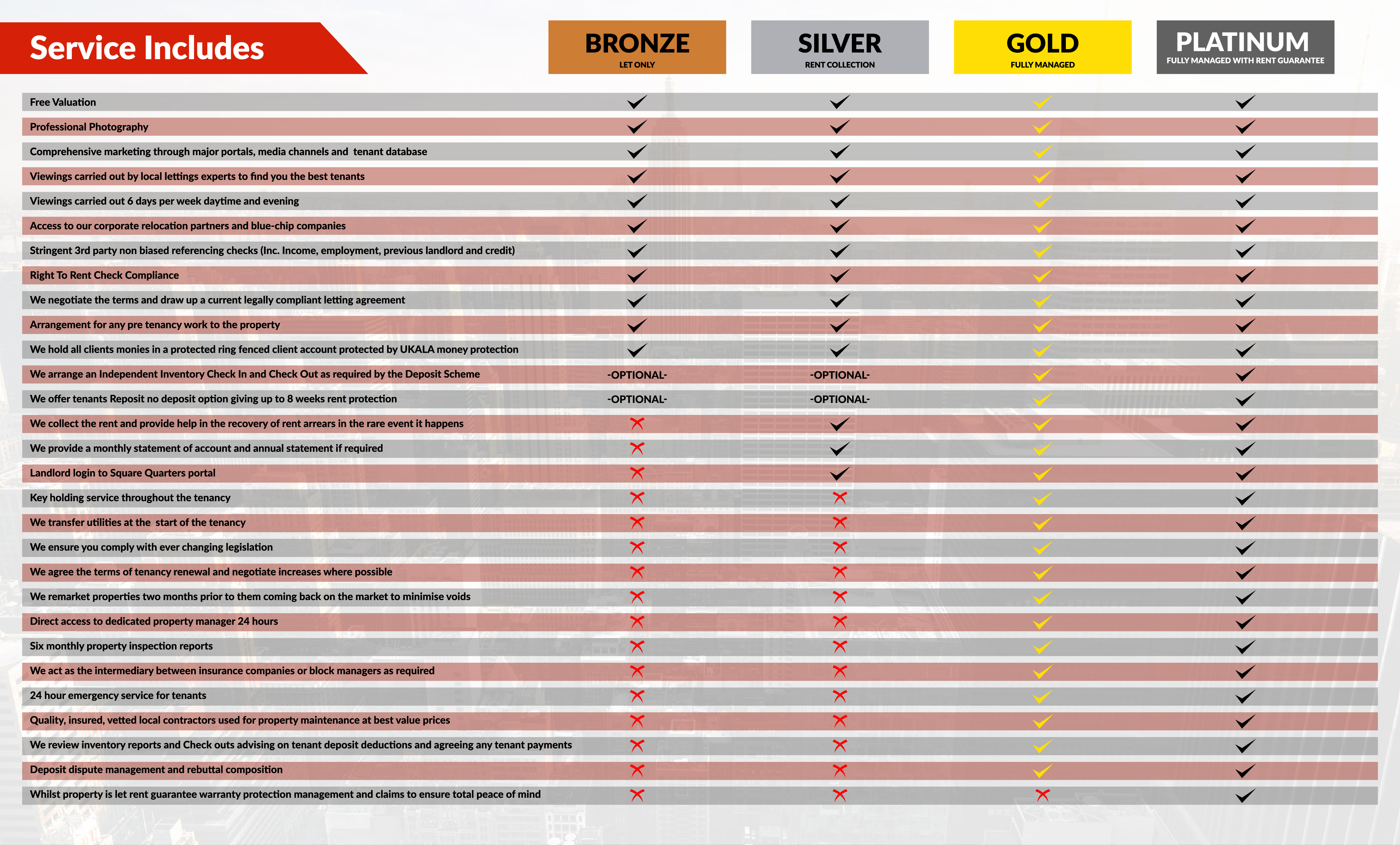 *Updated July 2019*